Design: More than a cherry
For yonks design has been seen like a shiny red cherry on the top of a cake: a nice touch, but nothing more. What the recession showed us was that design is actually more fundamental to success than a lot of companies had given it credit for.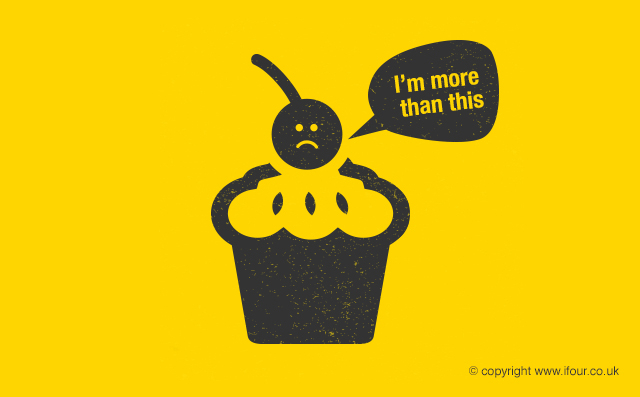 When the competition got fierce, being able to differentiate yourself, show your true personality and gain a bit of consistency really helped the cream to rise. A lot of that was aided by great design.
The Science Bit
In our mind-meanderings, we came across a great piece of research from Warwick Business School on behalf of the Design Council UK to back up what we've always believed: great design can help your business make money. In short, the research shows that design helps:
Drive innovation and gain a foot in new markets
Differentiate products and services to attract customers
Strengthen branding so people recognise and trust you.
'Music to my ears,' I hear you cry. But wait – we've got more to throw at you!
Not a Holiday Romance
The research also highlighted a little paradox: The greater the requirement for design to prove its contribution through detailed financial analysis, the more conservative the design approach taken – resulting in lower impact on performance.
So you've got to ensure it's not about the bottom line, to ensure it really is about the bottom line. Well – sort of.
The thing about brand is that it's all about building relationships, and lasting ones take a long time to grow. You don't want a whirlwind romance that ends in heartbreak, you want to find your true love and live happily ever after. And we all know you can't put a price on love.
Finding Your Soul
In his book Well Designed, Jon Kolko suggests that, "engagement is achieved by designing products that seem as though they have a personality or even a soul. These products feel less like manufactured artifacts and more like good friends."
At the end of the day, great design shows you at your best. It extends your personality so that customers know immediately what you're all about. As a result, they'll trust you, fall in love with you and never look elsewhere.
So, in an elegantly crafted nutshell:
Use design to differentiate: It's all about you. Sure, you need to know what the competition are up to, but focus on what makes you different and ensure that comes across in the design. Find your personality and express it.
Integrate design and branding: Go the whole hog! A consistent look and feel will help you stand out, bind your team together and ensure your customers trust you.
Trust your designer's talent: Simply having an opinion doth not a designer make. Designers actually train because, believe it or not, there is a science behind the art. It's subtle, but powerful and worth doing properly.
Need more convincing? The proof, as they say, is in the cupcake. A little a survey by Teknikföretagen, an employers organisation for Swedish engineering companies, looked at the profitability of firms that invested in design and those that have not. Those that did were at least 50 percent more profitable.
So there we have it. Good design is pretty integral to your success.
Here at ifour, we love thinking, talking and doing great design, so give us a call on 01892 541111 or send an e-mail to hello@ifour.co.uk to see how we can help you create something beautiful and profitable.