Fortune favours the brave
Let's face it – certain industries are less likely to innovate than others. Law firm, accountants and financial advisers aren't known for being bold when it comes to design. However, in this increasingly competitive world, we think a lot of companies could benefit from being a little braver when it comes to their brand.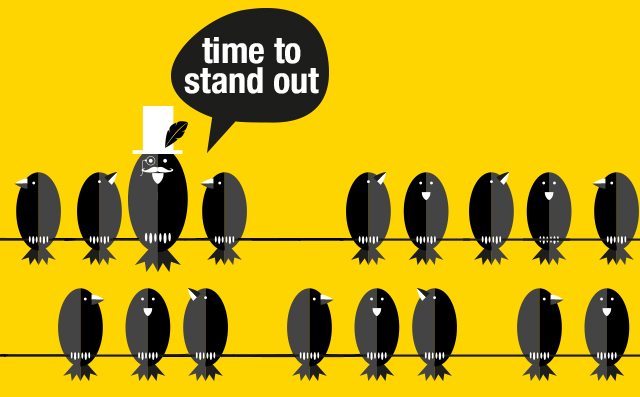 Imagine for a second that you're a professional services company. Your website looks like every other professional services company out there. This is all fine if you're happy to pootle along in the slow lane of mediocrity. But if you actually want to drive your business forward, perhaps it's time to try something new.
In the sea of generic 'blah' you can be the company that pushes the boundaries. When customers skip through the endless list of same-old, same-old websites, yours could be the one that stops them in their tracks. Yours could be the one they actually remember.
Set yourself free
To be frank – a lot of professional websites are rather dull and boring. However, we know for a fact that the people who work there are certainly NOT dull and boring. You don't talk to each other in corporate jargon and you certainly don't talk to your customers in that way – so why do you feel a need to do so on your website?
Customers want personality these days. They want brands that reflect their own values. They want to feel they're talking to real people not a corporate machine. Of course they also want to be reassured that you know your stuff, which is where great design and content can help you bridge the gap. It can help you showcase what you do and who you are, rather than who you think your customers want you to be.
Change is gonna come
The other thing is, whether you like it or not, change will come. Look back 20 years and your company probably presents itself in a very different way now. Chances are you didn't even have a website and the thought of communicating with your customers in 130 characters via a mobile phone app probably seemed as unlikely as Donald Trump running for President – but it happened.
Your industry is already changing and you can either set the pace or you can limp along like a sheep bringing up the rear. Whilst the thought of letting someone else take the lead might seem like a safe option – you could simply get left behind.
Luck takes hard work
Yes, it is scary to try something new. But the good news is that great design isn't about luck. It's carefully researched and planned. Whilst the likes of Apple, Dyson and Starbucks may look to have been in the right place at the right time, there's a science behind looking effortlessly good – which is where we can help you out.
We've been working with a number of companies recently who aren't satisfied with being 'run-of-the-mill.' The likes of Fourex and V-Tex want to stand out. We've looked at who they are, what's going on in their industry and at who their customers are. Put this all together and we're helping them set a new standard for their industry.
We love the challenge of looking at companies through a completely different lens – so if you're up for trying something new, so are we. Just give us a call on 01892 541111e-mail hello@ifour.co.uk or pop into our offices in beautiful Tunbridge Wells, Kent.