Great design is still the ultimate disruptor
As part of our Elite membership with global media platform The Drum we were offered a double page spread in the magazine that we coincided with our 10th birthday. We discuss our creative journey and how we have carved a reputation for being different.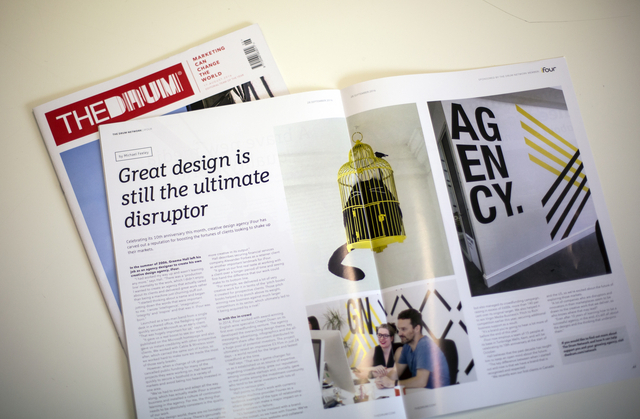 A full copy of the article is here:
Great design is still the ultimate disrupter
Celebrating its tenth anniversary this month, creative design agency ifour has carved out a reputation for boosting the fortunes of clients looking to shake-up their markets…
In the summer of 2006, Graeme Hall left his job as an agency designer to create his own creative design agency, ifour.
"I had worked my way up and wasn't learning anymore," says Hall. "There was a 'production line' mentality to the work that I didn't enjoy. I wanted to create an agency that actually cared about its clients and delivered great work rather than being a machine just churning stuff out.
"I started thinking about a name and began jotting down the words that were important to me. I wrote 'intelligence', 'imagination', 'integrity' and 'inspire' and that was it: ifour was born!"
Launched as a two-man band from a single desk in a shared office, the fledgling agency quickly secured Microsoft as an early client. "That was hugely important for us," says Hall. "It gave us a real boost to see our work published on the Microsoft home page and also gave us instant credibility with other prospective clients. We worked with Cable & Wireless soon after that, which carried the same sort of kudos, so we worked hard to make sure we made the most of those early breaks."
However, when a change of UK government cancelled public funding for many of the projects they were working on, Hall learned quickly to secure a foothold in a variety of markets and avoid being too heavily invested in one area. He says: "We've had to evolve and adapt all the way along, which has actually made ifour a smarter business and installed a culture of continuous learning in the agency. For me, the thing that needs to be absolutely consistent is the quality of our work. In the design world, there are no limitations on the work you produce. There's genuinely no reason why we can't produce the same calibre of work as the biggest agencies in the world. In fact, I'd argue that a smaller team can often be more creative in its output."
Hall describes securing financial services company Alexander Forbes as a retainer client as another important landmark for ifour: "It gave us our first real taste at working with a client over a longer period of time and seeing first-hand the difference that our work could make to their bottom line. For example, we delivered a lot of very creative work for in terms of the 'pitch books' they created for prospective clients. Those pitch books helped them to punch above their weight, winning new business against much larger competitors in their sector, which ultimately led to them being acquired by a rival."
In with the in-crowd
In 2014, ifour worked with award-winning English wine specialist Chapel Down on its first ever crowdfunding venture. The agency developed the overarching design theme, key messaging, advertising, infographics and the all-important share offer document distributed to a huge pool of potential investors. The project ultimately raised an impressive £3.95 million in just 24 days, a world record for the largest and fastest crowdfund at the time.
Hall says: "That was a game-changer for us as it established us as source of expertise regarding crowdfunding, grew our reputation among innovative start-ups and, crucially, gave us real profile among the investment community, who tend to be serial investors with lots of fingers in various pies."
Hall points to ifour's work with currency exchange machine provider Fourex as textbook example of the type of relationship where design can make a major impact on a brand's success or failure. He says: "It's fantastic to be involved with a brand from the outset, as we have with Fourex. We've created their branding, website and collateral but also managed their crowdfunding campaign, raising in excess of £600K, more than 140 per cent over their original target. We also helped them to win Virgin Media Business's 'Pitch to Rich' competition earlier this year, securing additional business support as a result. It's a brand you're going to hear a lot more of before the end of this year."
ifour now employs a team of 15 people at its base in Tunbridge Wells, Kent, and will be celebrating its tenth anniversary at the start of October.
Hall believes that the past decade has taught him to keep an open mind about the future: "The key difference between when I started out and now is that we have a brand that is recognized and respected. We recently won our first clients in Canada and the US, so we're excited about the future of exploring those markets. A lot of companies who are disruptors and innovators in their marketplaces seem to be drawn to the creative work that we deliver, so who knows where that may lead?
"Even after ten years of learning how to be a successful agency, in the end, it's still all about the designs and the thinking that underpins them."
If you'd like to know more about how we could assist with disrupting your industry please get in touch we'd love to talk. Email or phone 01892 541111 and we'll tell you more.