ifour's Desert Island Discs
Desert Island Discs sail into their 75th year this Sunday with former England Captain David Beckham being cast away on the imaginary island. We've heard so many different tracks over the years from a host of celebrities and luminaries, including classical and jazz through to punk, Brit pop and rap. This got us thinking it would be a fun exercise to share what kind of music influences the creative minds behind ifour.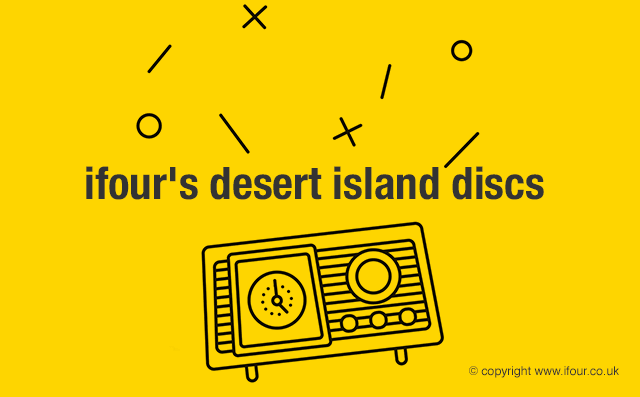 As you would expect in the studio, we all listen to our own music at various points while we work (occasionally agreeing on a band or album amongst part of the studio). We know that our musical tastes vary wildly despite the fact we all approach our work with a creative mindset. Creativity is made of three main components: problem-solving, self-expression, and imagination, all of which listening to music can cater for. Everyone experiences that moment when a song taps into something deep in your being and you've felt the goosebumps, the spark of imagination or the rush of joy connecting you with the music. Or when a certain song has the power to transport you back to another time or place unexpectedly, we can connect to music on a visceral level.
This fascination with music is part of what makes Desert Island Discs so successful, as, with each track, that week's castaway discusses moments in their life relating to it, the things that are important to them and why certain songs mean so much.
The parameters of ifour's Desert Island Discs
We decided to stick rigidly to the rules, 8 tracks, a book and one luxury, which must be inanimate and of no use in escaping the island or allowing communication from outside. You automatically get the complete works of Shakespeare and a Bible or another appropriate religious or philosophical work. But as there are more than 8 of us, we decided to each make a suggestion for a track, book and luxury item then vote to find our agency favourites!
Bearing in mind that some members of the ifour team have some really obscure musical tastes, this was always going to be an interesting exercise in sharing songs some of us had never heard of. But, in the top place track that we would save from the waves was Pink Floyd's 'Wish You Were Here', with 70% of the studio voting for its inclusion in the 8 tracks. Our top 8 have ended up being a random mixture (as you would expect):
Wish you were here: Pink Floyd
Love & Happiness: Al Green
September: Earth, Wind & Fire
Blackbird: Beatles
Tonight, Tonight: Smashing Pumpkins
Wake me up before you go-go: Wham
Walking on Sunshine: Katrina and the Waves
Goodbye Pork Pie Hat: Charles Mingus
If you fancy listening to our selection, you can do so on Spotify:
When it comes to both books and luxury items we had some great suggestions. Luxury suggestions included a vat of Chablis, a colouring book and pens and a golf set but the outright winner was the multi-functional and ever practical Swiss Army knife. When it came to books we had some equally diverse choices, from 'The Drawing of the Three' by Stephen King and Bill Bryson's 'Notes from a Small Island' to Plato's 'Republic' and Douglas Adams' 'The Hitchhiker's Guide to the Galaxy'. But once again the winning book was an ever practical option; Bear Grylls 'Extreme Food: What to Eat When Your Life Depends On It'. Safe to say we would be determined to survive on the desert island so we could focus on our tunes!
With 75 years worth of programmes, there have been so many fascinating castaways to choose from but some of our favourites have been Sir Kenneth Grange and Dame Vivienne Westwood, both available to listen to on iPlayer. Which just leaves the question, how many Spice Girls songs will David Beckham pick?
If you would like to add a bit more creativity to your life, why not check out our 6 tips for a Creative Reset?