Once more, with feeling! 4 brands using emotion to live their values now
We know we're in murky waters. There's so much uncertainty about what we should do, as marketers, as consumers, as individuals. But we're all being more empathetic, to ourselves and others.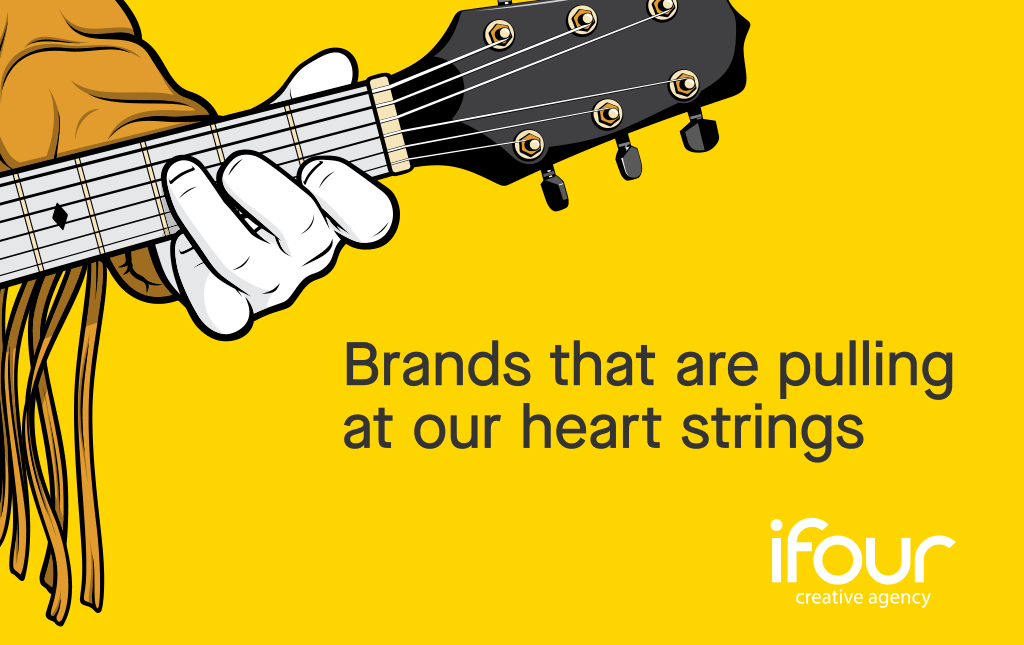 Finding creativity in uncertain times
Ad spends and marketing budgets have been paused, shaken up or slashed, so we are all trying to find new ways to reach out to our audiences. And yet, ad space is still available and there to be filled (and there is only so much Netflix/Prime/Disney+ we can all watch before we turn back to conventional broadcast channels). So we thought we would take a look at some of the best of the Corona-era ads to see who's embracing the newly open, honest and emotive vibe whilst sticking to their brand strategy.
Virgin Media – British Resilience
Upbeat and with a uniquely British feel, the Virgin Media ad focuses on personal relationships, on frontline workers, iconic viral moments, including #clapforcarers and the real-life OAP hungry hippos game, and uses the uplifting track Keep your Head Up by British singer/songwriter Ben Howard. The Virgin Media ad was one of the first to fit into the reduced frame of reference we all have, namely staying connected through digital devices and has a totally authentic message whilst still staying true to it's brand values, despite taking a different production route from previous high value ads.
Apple – Creativity Goes On
Where Apple's ad differs from other 'connection' quarantine "real clip" ads is that it is completely in line with previous ads from the 'Behind the Mac' series and feels very much Apple in tone. From the music, the combination of online and offline moments, the almost intangible narrative of bored child to creative output and the blocked framing of the visuals, Apple crams a lot into the 1 minute 37 second spot.
Highlighting how life and creativity are continuing globally through all walks of life, the spot references families, creatives and athletes alike, carrying on with their calling. We see pro-surfer Yadin Nicol creating waves for his kids, andFilmmaker Tee Ken Ng creating an awe inspiring zoetrope. The spot features celebrities including Oprah on Apple TV+, John Krasinski and DJ D-nice live streaming, and touches on the growing trend for live stream storytime, with a snippet of Lily James reading the phenomenal, 'The Boy, the Mole, the Fox and the Horse' by Charlie Mackesy*. It also shows off life events big and small, with a couple who have clearly just married, a teddy in a window ready for a daily exercise bear hunt, rainbows and musicians in windows and a child drawing on an iPad, all of which have been shot or created using Apple devices. For me, this ad somehow feels comfortingly normal, despite being relevant to our abnormal situation. Perhaps this is because it absolutely fits with Apple's brand aesthetic and messaging; that anything you can do or create will be better when you do so with an Apple product.
Nationwide – Voices
'A message to myself in 6 months time' has tapped into their run of real people chatting and looks forward to a time when life (hopefully) has returned to normal. The messages to future selves highlight the things that matter, like the fact that when asking how someone is, we all really mean it right now. The spots remind us that everyone is missing someone, and that the little moments, like dancing, facetime with family and clapping with neighbours to celebrate the NHS and key workers are the things that everyone wants to remember. Nationwide reinforces their community brand values whilst offering a beacon of hope that, one day, all this will be a painful memory. And maybe, just maybe we'll all be that little bit better for having lived through it.
Argos – So Stylish You Can Wear It
In one of the most whimsical and bizarre ads around at the moment, we can only assume that Argos' latest effort is tapping into the same escapist trend that has seen The Tiger King become must-watch lockdown viewing. Wearing what at first appears to be high end fashions, model Suki Waterhouse's voiceover parodies luxury perfume and fashion ads whilst wearing Argos furniture and homeware, and holding a duck. Obviously. Whilst this creative came from a time before the world was turned on its head, the wry humour and clear tongue-in-cheek aesthetic provides the perfect moment of light relief in a world where are all no doubt eyeing our surroundings with a more critical view as a distraction from the surreal situation we are all in.
So that's our selection of the best ads happening right now. Have we missed your favourite? Or are you wondering how you might be able to speak more openly and honestly to your target audience? We're offering free rapid-fire idea generation for businesses who want to make sure they 'surhrive' during and after COVID-19. Whether you're not sure what to say to your customers, have a problem to solve or a campaign in mind, email us at hello@ifour.co.uk to request a 30-minute session! Or keep up to date with the latest ifour news, add us on social media; Facebook, Twitter, Instagram or LinkedIn.
*If you want to read something truly beautiful and uplifting, whether you are 2 or 92, read this book, it was Waterstones Book of the Year 2019 and an absolute classic already.