Lead Designer
Immediate start
Full-time (40 hours p/w)
Hybrid working (mostly remote)
£50k pa
ifour is a growing creative design agency, working with big international brands in the B2B space with a particular strength in solving complex briefs in a beautiful way.
We're based in Tunbridge Wells, and although we are well placed to provide a high-quality service to clients in London and the South East, most of our clients are international companies based all over the world.
We're an innovative agency with a strong reputation for delivering beautiful and intelligent business solutions with inspiration and integrity.
The opportunity
The business has grown organically since we started trading in 2006, new business usually comes from recommendations. As we take the business to the next level, We are looking for a talented creative leader with their own unique 'creative voice' and the technical skills to match.

We are looking for a talented creative leader with their own unique 'creative voice' and the technical skills to match. The post-holder must be a conceptual thinker with the ability to create clever, thoughtful or witty concepts that answer a brief and engage with the intended audience. They must also be a hands-on heavyweight designer capable of joining a well-established, award-winning creative team. Our ideal candidate will live and breathe design and inspire everyone around them through the quality of their ideas and the elegance and precision in the execution of those ideas.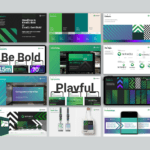 Lead Designer: Overall purpose
Growth
We have an ambitious growth strategy which calls upon our Founder and Creative Director to take an even more outward-facing role as we win business with bigger, higher-value clients than ever before. We need an inspirational creative to act as the right hand to our Head of Creative, supporting some projects and taking the creative lead on others while ensuring our existing clients and projects get the top-class outputs we're known for.
Collaboration
This role is pivotal to the role. We are looking for someone who is talented and strong enough to have, implement and communicate their own creative vision to other creatives as they service our wide range of client brands. But we also need someone who is able to take direction from our Head of Creative and our Founder / Creative Director.
Leadership
While the Lead Designer will not have formal line management responsibilities, the role does require strong leadership qualities. The role will work closely with the Head of Creative and the Creative Director to set a creative direction for projects and then take that direction or concept and lead the project.
Lead Designer: Responsibilities
Leading by example
The post holder will be expected to act in an inspirational and supportive way to the whole team and take on any reasonable ad hoc project leadership duties and responsibilities as directed by the Head of Creative and the Creative Director.
Lead in the studio
● Working closely with the Head of Creative and Creative Director to develop and set the creative direction of ifour's commissioned design work (e.g. campaigns, websites, print, marketing collateral, packaging etc.).
● Ensuring that the creative concepts and themes are managed through the design and implementation of assets by the studio team, adapting where necessary.
● Being a proactive member of the design team, and looking for opportunities to improve the way the function operates.
● Helping to drive quality, encourage collaboration, and ensure timely delivery.
● Working with the project management team to ensure that projects are running smoothly and all issues around creative studio deliverables have been communicated internally and externally in a timely manner.
● Making a positive and imaginative contribution to the ongoing development of the agency's culture, values and outlook.
Client work
● Creating original, beautiful and engaging concepts for clients' brand and marketing communications that have a big, positive impact on the bottom line.
● Designing and producing marketing communications (print and digital) collateral for our wide variety of clients
● Liaising with clients to capture a full understanding of the brief and the wider project context
● Developing and confidently delivering creative pitches to prospective and existing clients.
● Account managing clients, developing business and demonstrating understanding of their needs to ensure excellent client/agency relationships and a steady stream of work.
● Play a leading role in developing and executing big agency projects such as planning and delivering client campaigns.
● Work closely with Strategy and Development colleagues responsible to ensure all aspects of ifour's creative work are aligned and integrated.
Core skills
● A natural leader. Able to have a demonstrable impact within a creative team, encouraging a collaborative and inclusive team dynamic.
● Expertise in developing concepts for others to work on.
● Proven work experience as a Senior Designer, Graphic Designer or similar design-led role.
● High degree of expertise with design/creative software e.g. Adobe Creative Suite.
● Strong aesthetic skills with a deep understanding of colours, fonts and layouts.
● Impeccable attention to detail and the ability to provide insightful feedback.
● Communication and presentation skills – the ability to engage colleagues and clients and inspire them with your ideas and creative vision.
● Excellent interpersonal skills are a must – you must have a clear creative vision while remaining open to others' ideas.
● The ability to effectively manage the full design life-cycle, from conception, and visualization through to launch.
Person specification
● Creative – you need to have your own creative design 'voice', developed over time and you must be able to engage and inspire others with your ideas.
● Supportive – you need to know how to bring together a talented bunch who each have their own style of working.
● Charismatic and organised – You should always be well enough briefed to be able to propose solutions for any creative / delivery issues that come up without having to resort to the Creative Director.
● Inspirational – the creative team should naturally seek your input and creative opinion and should come away energised by interactions with you.
● Tough and wise – you need to be able to stand your ground and also to give way, if necessary without anyone losing face.
● Team player – we need someone who is self-motivated and resilient under pressure. You must also have a strong sense of fun!
What we offer
Empowerment and autonomy to take control of your own career path.
Professional training budget to suit your needs and develop your skill set.
A diverse and varied client base, with opportunities to build skills and work across teams.
A small friendly team connected through our shared belief in the power of creativity to transform any business venture.
The benefits package includes virtual GP access and retail discounts, paid time off for medical appointments (including for blood donors), flexible working, leave trading, flu jab and eye test refunds, double pension contributions and much more.
Chance to contribute to the growth of the design department, seeing a real impact as we explore new approaches and develop.
A salary range of £50k pa.
Email applications should be sent to hello@ifour.co.uk