Deliverect
Firing up customer referrals and lead generation.
Plugging in to food delivery platforms.
Deliverect connects online food delivery platforms to existing POS for restaurants, dark kitchens and takeaway food businesses.
With the global pandemic locking down restaurants and food services across the globe, Deliverect grew rapidly as the demand for delivery services soared. For busy, expanding businesses, managing multiple proprietary delivery platform systems takes up valuable time and resources.
KEY SERVICES:
– Brand strategy
– Advertising
– Video
– Campaign
Connecting these systems with the restaurant's own POS or a central tablet, using the Deliverect platform offers a simple solution to scale deliveries without the hassle. Given the increase in demand, Deliverect wanted to seize the opportunity and get the word out about a simpler way to manage delivery orders.
The challenge
Setting the grapevine on fire.
Most cities have close knit ties across the food industry, so word-of-mouth recommendations really matter.
The Deliverect team asked ifour to develop a campaign that would support their existing customer referral programme, which rewarded both new and old customers with a free month's subscription for every successful referral.
The Approach
Turning up the heat.
With a focus on social media, the campaign needed to stand out from the background noise to succeed.
We wanted to highlight Deliverect's in-depth understanding of the pain points of food delivery as it has shaped their platform for ultimate ease of use. We knew the campaign needed to a) engage existing customers enough for them to want to share and then b) spark new customers' interest. Given the chaotic environment that many professional kitchens experience, we were inspired to look at combining the chaos of a busy kitchen with key messaging as a starting point.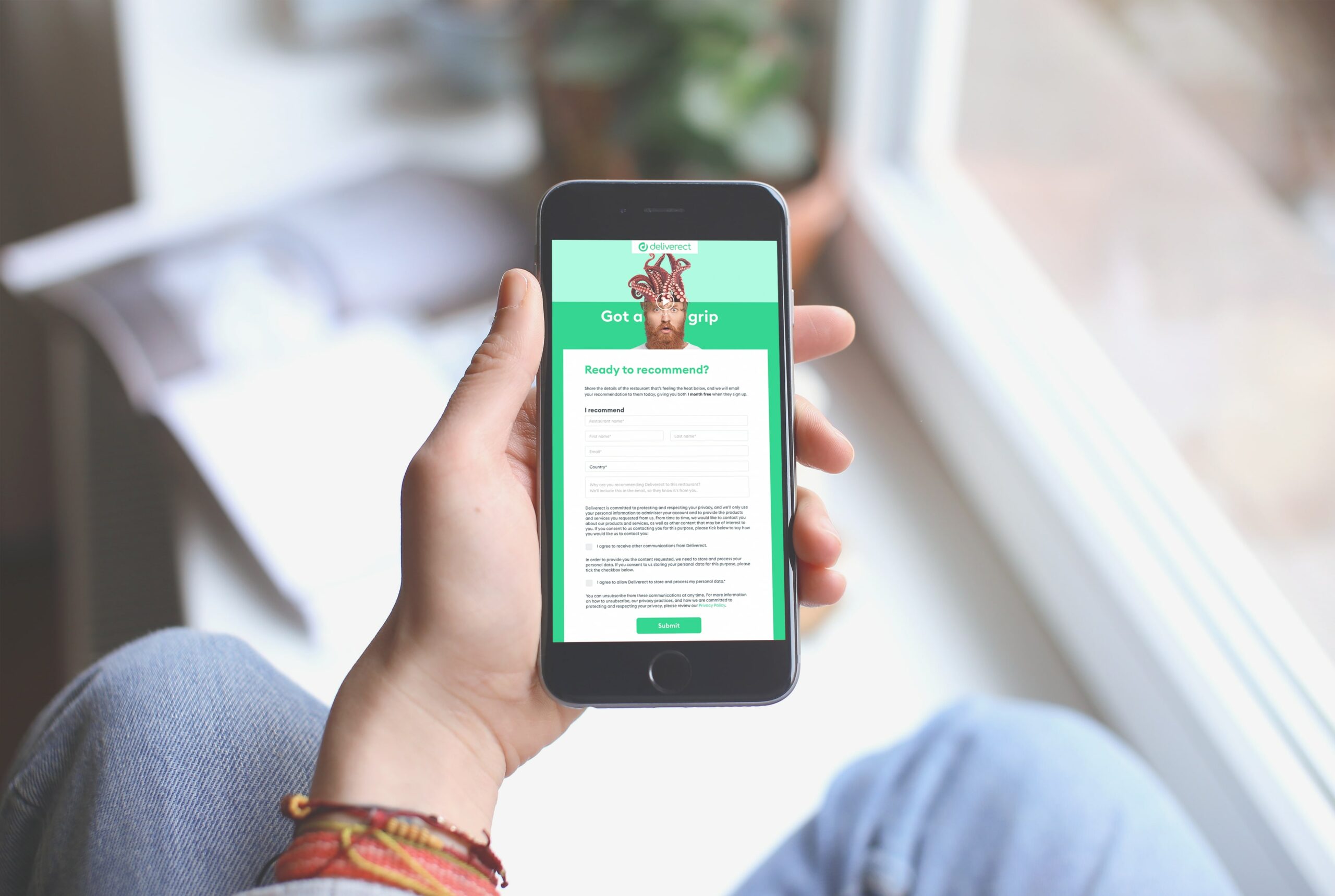 The Solution
Setting the campaign to sizzle.
Bold, creative visual combinations with eye-catching colours and snappy messaging that stop the audience mid-scroll.
Bright, energetic visuals, animations and short, crisp messaging was applied to assets across the campaign, including organic and paid social posts, landing pages, emails and a fast-paced video. The passionately bright brand colours and surprised faces echo the high pressure, chaotic kitchen environments in an exciting and humorous way, helping users to stop the scroll and engage. Source files were supplied to the marketing team to translate into additional languages for different territories.
"
Working with the ifour team is always a pleasure for us. They help us create fun and engaging campaigns that are unique and draw the audience's attention. They take the time to really understand our business and our target audience.
Shelby Torrence, Head of Marketing, Deliverect