Sit back and relax – Marketing Automation has it covered
It's a dream. There you are, lying back in the sun, drink in hand, while your business sails majestically ahead with just an occasional touch on the tiller from you.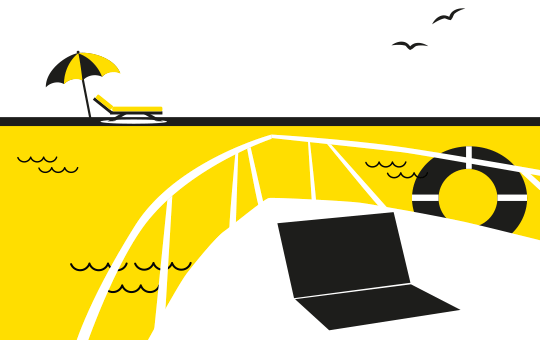 Of course, you don't want to feel guilty about your marketing and sales teams slaving away over hot computer screens. It would spoil your mood. Much better if your software was doing all the work.
Is it time to buy in to marketing automation?
After all, once you're on board, all you have to do is wait for the customers and sales to roll in. Right?
If only life – and sales – were that simple.
You will see and hear about the benefits of marketing automation. There are indeed real benefits to be gained – but only if you understand how to use the toolkit it provides. You have to put work in to get the results you want out.
So don't go to the beach yet.
The most talked-about element of marketing automation is email but this is actually only one part of it. Its real strength lies in its ability to integrate multiple channels – email marketing, PPC, social media and, of course, tracking visitor behaviour on your website – offering integration to CRM systems, campaign management and marketing analytics.
With the vast array of marketing technology on offer now, it can be tempting to try to blast your way into increasing sales. You could blitz every customer in your CRM with emails. You could spend a fortune on paid search and remarketing to bombard prospects using customer personas based on who you think your customers are. But without a well-researched strategy and the right tool to coordinate activity across the different channels, you're unlikely to hit the target. At best you run the risk of being ignored, at worst you alienate the very people you want to buy your products and services.
So, what might work? Marketing automation is simply a set of tools to help you have an authentic two-way relationship with the people you want to engage. But it sits in the middle of the sales funnel and depends on having a clear idea of who you want to nurture and why and, importantly, how well your sales function can convert hot leads into happy customers. Without these two bookends, the whole thing falls apart.
Marketing automation will help you focus your efforts on what your prospects actually do rather than what they say they do or what (you think) they look like. It allows you to look closely at prospects' behaviour and follow paths to purchase from social media or PPC to your landing pages and beyond.
This close tracking is at the heart of the nurturing relationship. Your marketing content and messages propose and suggest to would-be customers and then you watch closely as their behaviour tells you, in great detail, what they think of your propositions and suggestions across all the touchpoints you have with them.
You then study this reaction and tweak the model until you have achieved the most effective combination that delivers the right messages to the right person at the right time through the right channels. You can even programme your workflow to make content change dynamically as your prospect's behaviour on the site tells you more about their preferences.
All done? Don't go to the beach yet.
This is only the start. You need to be as sure as you can be that the right customer research and data is fuelling the automation. And that your sales function is adequately prepped and integrated into the project. After that, the system needs regular tending and data-tweaking to keep it relevant. Your marketing automation software will show you what is working and what isn't but you still have to react to what it is showing.
Even with all of this work, marketing automation, deployed effectively, saves time and allows your team to focus on using their strategic and tactical expertise instead of tying them up with repetitive tasks. It enables you to make informed decisions about your business and target your customers, new and old, with the most relevant messaging.
If it is done well, it should pay for the odd trip to the sunshine…
ifour specialises in developing campaigns using automated marketing – from the initial research stages, to message and content creation, all the way to integrating your sales function. So if you want to dip your toes into the water ifour can do as much or as little of the automated marketing management as you wish.
We have partnered with SharpSpring, a more affordable option than some of the more famous names in the business. We offer a rolling monthly contract which gives the flexibility to test the water before plunging in too deeply.
We work with you to identify your needs and deliver results in a way that best suits your business. Hmmm, the sun is over the yardarm. Time for another cocktail, I think….