Grundon
Improving brand perceptions,
converting online leads
A family business with heritage
Founded in 1929, Grundon is the UK's largest family-owned supplier of integrated waste management and environmental services.
The company's extensive range of services and leading-edge treatment facilities combined with high service standards, technical innovation and a commitment to the environment put Grundon at the forefront of the UK's waste industry and set it apart from its competitors.
But the brand's online presence was woefully outdated. Grundon needed a website that reflected its pioneering, human spirit, to prospect for leads and drive conversions.
KEY SERVICES:
– Design
– Website development
– Content strategy
– Website build & launch
Post-launch website statistics
Session duration increased by
THE Challenge
Falling flat online
When Grundon approached ifour, its online presence was underpowered and inadequately conveyed the company's offer, status and unique personality.
ifour were asked to present Grundon's extensive range of products, services and facilities on a new website that reflected the company's sector-leading credentials and captured the brand's distinct position in the waste management sector.
OUR APPROACH
Identifying the must-haves
We conducted a survey to gather Grundon team members' perspectives on the company's audiences and the most important messages to communicate via the website.
The survey identified issues with the existing site's content, design and functionality, and explored 'must have features' for Grundon's new site.
We knew the new Grundon website needed to present the company's services, facilities, and responsibilities alongside careers information, heritage, news and contact details in a simple, easy-to-navigate format. The site had also needed the capacity to add stand-alone campaign landing pages to highlight specific products and offers.
So in true ifour style, we took a different tack. We used humorous, dynamic design elements to bring the Grundon personality to life. We opted for simple yet bold visuals to engage the user without overcomplicating the subject.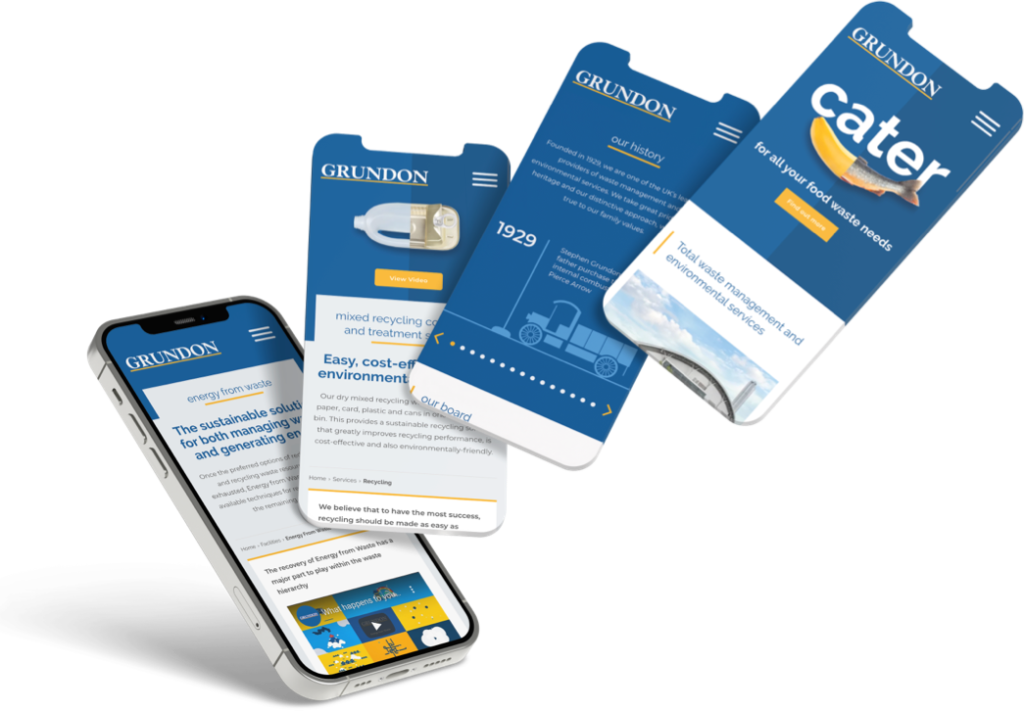 THE Solution
Form and function combined
The new website's easy navigation, smooth functionality and design variation from the industry norm immediately gave the company a professional, distinctive online presence.
In the first 51 days of the site being live, compared to the same period in the previous year, users were up 49%, new users were up 52%, sessions were up 62% and page views increased by 172%. The number of pages visited per session was up from 2.5 to 4.2. Organic traffic increased by 19%, and bounce rate was down a whopping 79%.
Grundon believes the new website has been pivotal in improving brand perceptions, making it easy for current and potential clients to interact with the brand online and identify the services they need.
Following this project, Grundon asked ifour to work with them to design two further websites – for their aggregates business and their estates department – as well as targeted PPC campaigns, incorporating remarketing and display advertising.