Knauf
Putting on a show for the construction industry
Knauf is a leading multinational producer and supplier of gypsum-based building materials and construction systems
In the UK, the brand is synonymous with high-quality plasterboard. This presented a problem: by being so well-known for plasterboard, Knauf's other innovative products had become obscured and needed to be thrust into the spotlight.
Knauf hired ifour as the lead agency to create and drive an engaging omnichannel campaign, raising awareness of the range of products on offer.
KEY SERVICES:
– Brand strategy
– Campaign strategy
– Social media strategy
– Website
Post-launch campaign statistics
PPC campaign was 3 times more effective than industry standard.
Higher email click-through rates than the UK construction industry marketing benchmark.
The challenge
Getting the #1 product to share the spotlight
For many, Knauf IS high-quality plasterboard. However, high-level, single product awareness causes a dilemma: how do you position your company as a manufacturer and supplier of a broad range of innovative products and systems, without shifting too much attention from your best-seller? The 'much more than famous plasterboard' message needed to be conveyed to a wide audience of influencers, buyers and decision-makers.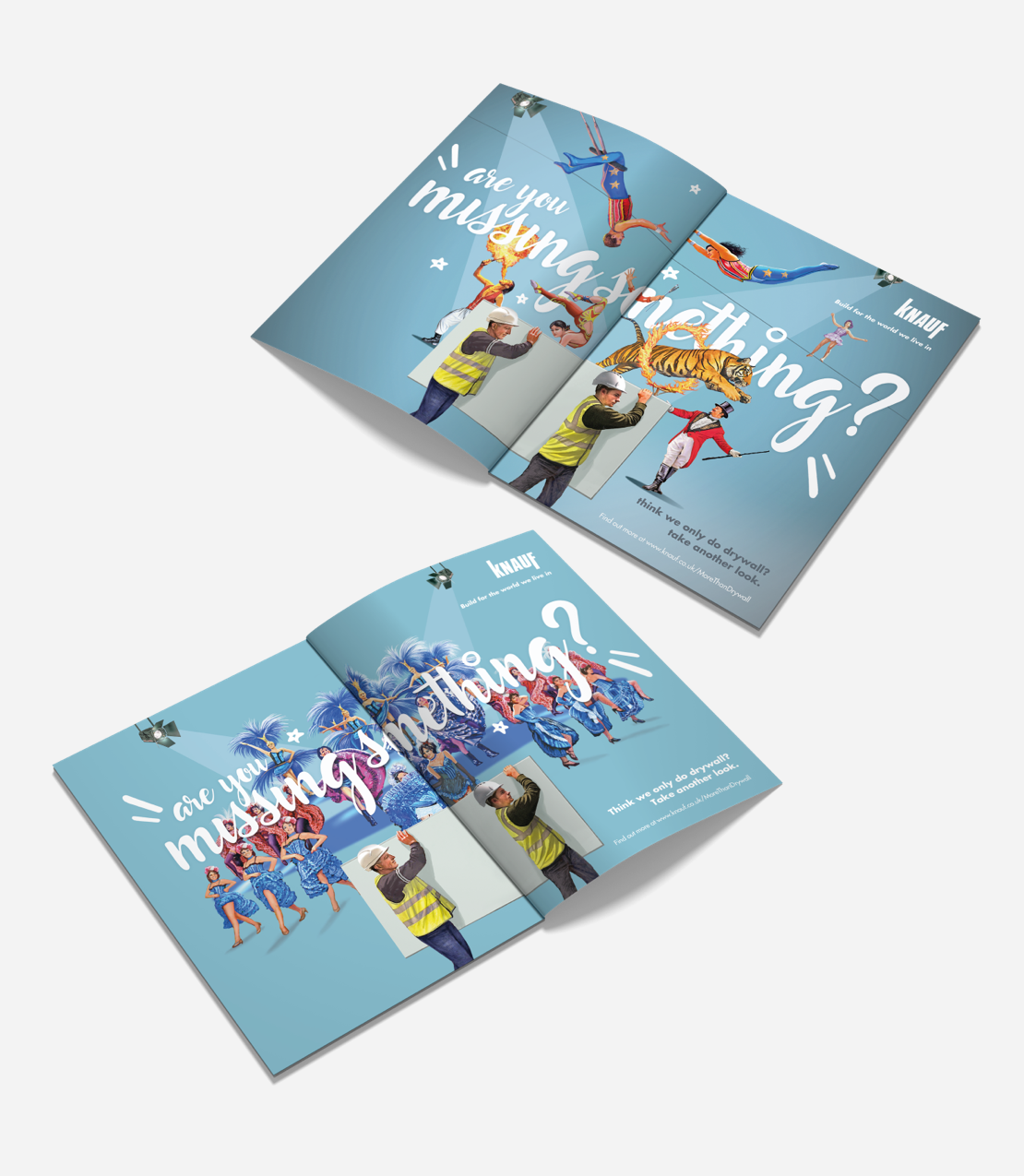 The approach
Understanding customers' perspective
We led a multi-agency team that included construction sector specialists, PR and paid search specialists, kicking off the project with some illuminating market research. Our insights revealed that while Knauf's audiences were more aware of their other products and systems than we had realised, they were comfortable associating Knauf with 'what it did best' and not curious to know more about other products.
The problem, then, was not an awareness issue but a purchasing habit that needed to be shaken up. We used this new knowledge as a springboard for our creative; unsuspecting Knauf customers, confronted with breath-taking extravaganzas. But to see them, they had to (literally) look past the plasterboard.
The solution
Putting supporting players centre stage
'Are you missing something?' challenged Knauf's customers to think about how curiosity could lead to opportunity. The campaign's B2C aesthetic and tone was pushed through all channels to drive traffic to the campaign site. Press ads, paid search, remarketing, social media and email were supplemented with a pop-up direct mailer and a popular online game, the Unmissables quiz.
The impact
Showstopping results
80% higher email click-through rates than the UK construction industry marketing benchmark
PPC campaign x 3 times more effective than industry standard
Construction Marketing Awards (CMAs) 2017 – Best Use of Advertising
Muse Creative Awards 2018 – Gold Award, Advertising Campaign
"
We wanted to differentiate ourselves from our competitors and the industry approach, to ensure our exposure and cut-through to the target audience. ifour were perfectly placed to bring the campaign to life and meet the objectives.
Amrik Sanghera, Knauf Marketing Campaign Manager