VegPower & ITV
Taking veg to un-'chard'-ed places
Stemming from the Food Foundation's Peas Please initiative, Veg Power promotes eating veg in a kid-friendly way using advertising and marketing.
In 2017, ifour won the Drum's competition, beating over 60 entries reviewed and shortlisted by advertising legend Sir John Hegarty and healthy food campaigner Hugh Fearnley-Whittingstall. Our winning Veg Power entry quickly became the brand behind the multi-channel national movement.
Since then, we have continued to collaborate, working alongside ITV and Adam&EveDDB on Veg Power's popular annual 'Eat Them To Defeat Them' (ETTDT) and other related campaigns. This activity puts kids at the heart of the activity, raising the profile of veg and healthy-eating for children.
KEY SERVICES:
– Design
– Brand Strategy
– Branding
– Website
– Advertising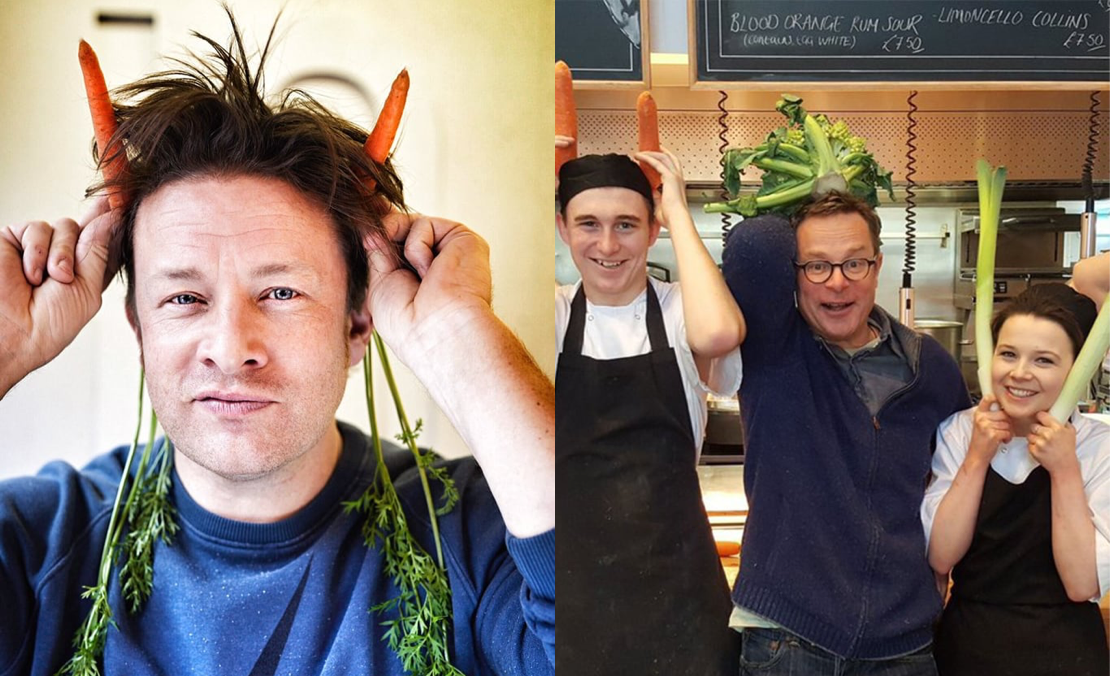 The challenge
'Squash'-ing a public perception problem
Vegetables are rarely advertised in the UK, and their marketing budgets are considerably more modest than 'unhealthy' foods.
In 2014, the UK food industry's expenditure promoting foods such as soft drinks, confectionery and snacks for purchase in retail settings was more than £250 million (Public Health England, 2015b). That is seventeen times more than was spent on fruit and veg.
The critical issue in persuading children to eat more veg has been the approach to date, either too factual or just missing the mark and failing to engage. Beyond appealing to kids, assets and content needed to appeal to a broad range of other audiences, including parents, teachers and catering teams, to make the initiative a success.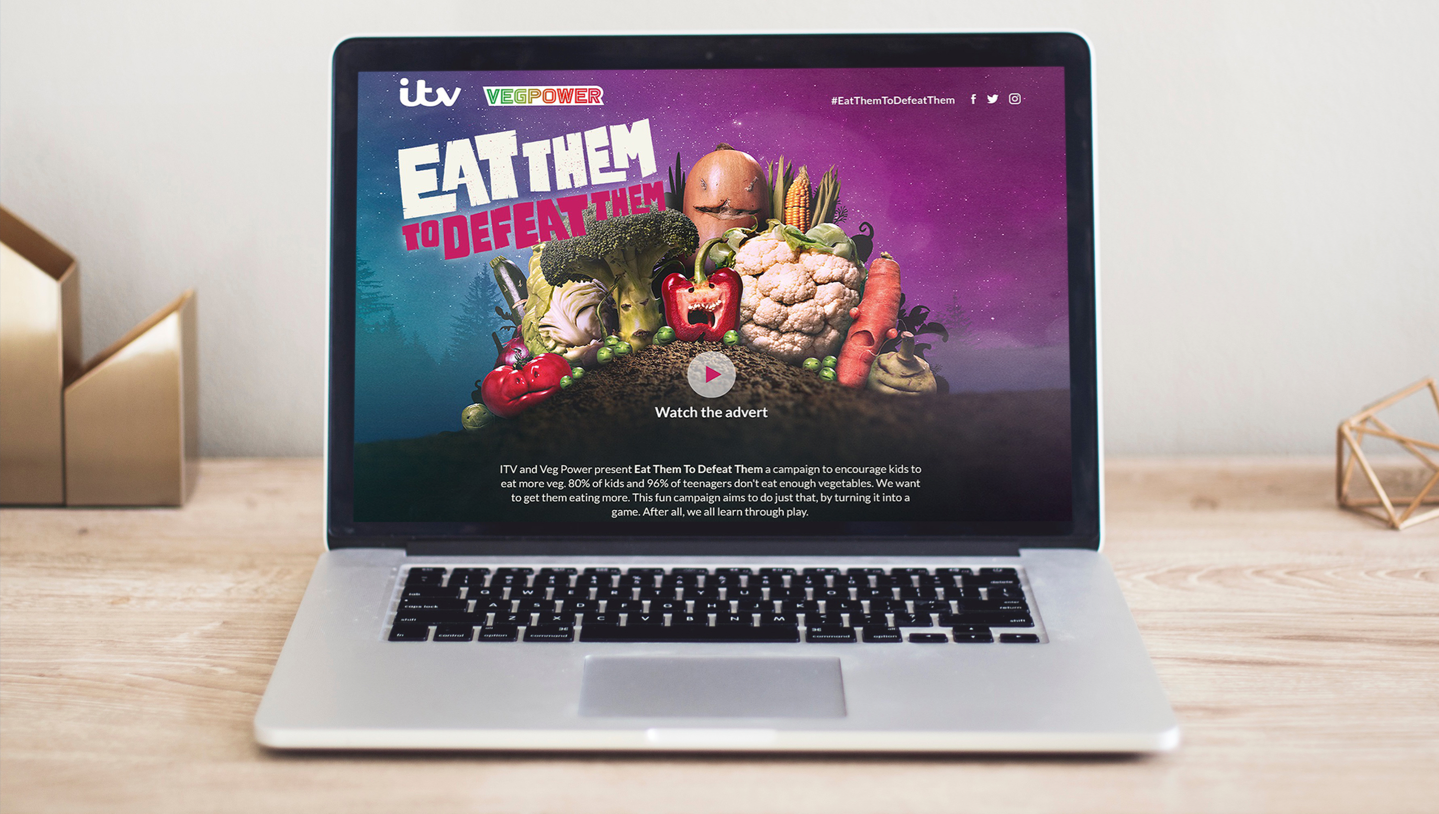 The approach
Keep calm and 'carrot' on
From the initial campaign through to subsequent school and kids' packs, the cookbook, social posts and more, our approach has always been to motivate consumers and use their enthusiasm to activate and engage government, industry (supermarkets, agriculture), health professionals, celebrities and educational bodies. We wanted the Veg Power website to serve as a destination where these different audiences could converge, respond to various calls to action and support collateral to captivate families, making the Veg Power journey an exciting, family-friendly experience.
While messaging across all assets is far from one-dimensional, we quickly realised that simplicity is vital. Copy is kept to a minimum and ensures that user journeys and calls to action involve as few steps as possible. Fun, fast and easy-to-use have been our watchwords in creating assets as the endeavour continues to grow.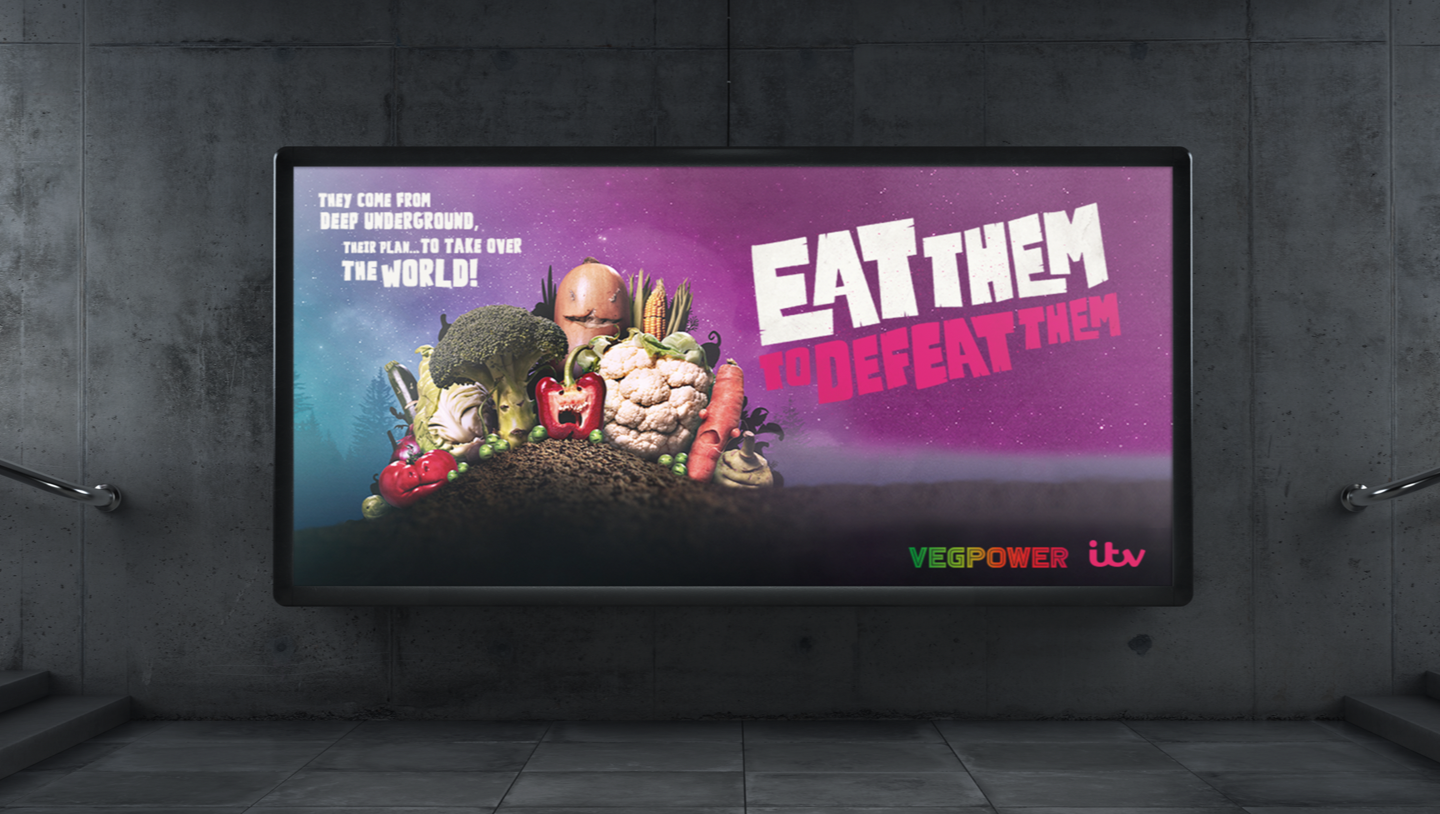 The Solution
'Turnip' the volume
After winning the competition, the subsequent campaign was launched on 18 January 2018, with significant celebrity endorsement and went viral on Twitter, Facebook and Instagram.
The original ad appeared in 5,000 locations nationwide, including Co-op branches, projections and graffiti, posters in local communities and thousands of primary and secondary school canteens across the UK. Media coverage included Sky News, Daily Mail, Radio Kent, The Grocer, Fresh Produce Journal, Your Local Guardian, Sunday Post, The National, The Edinburgh Reporter and The Drum.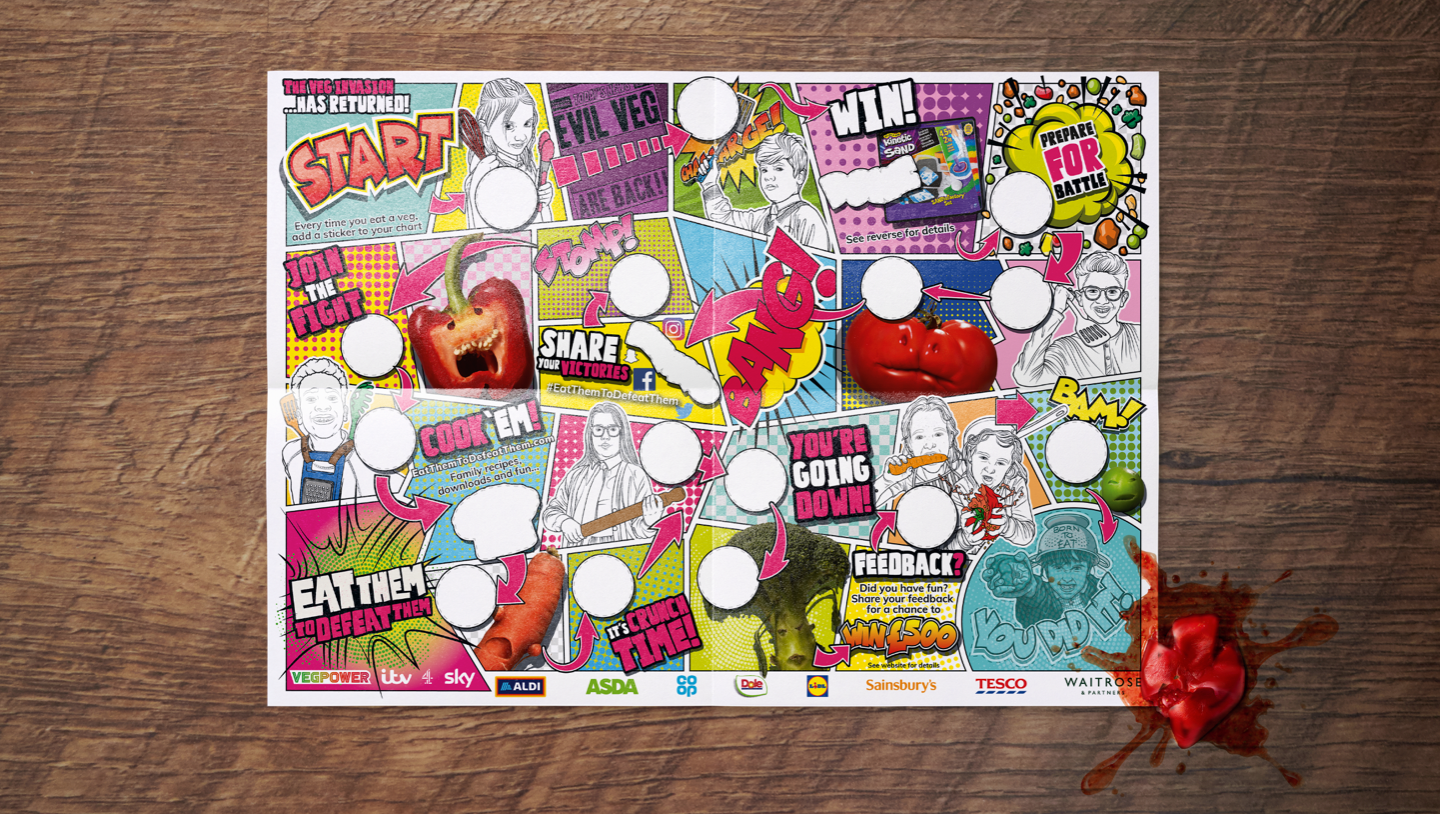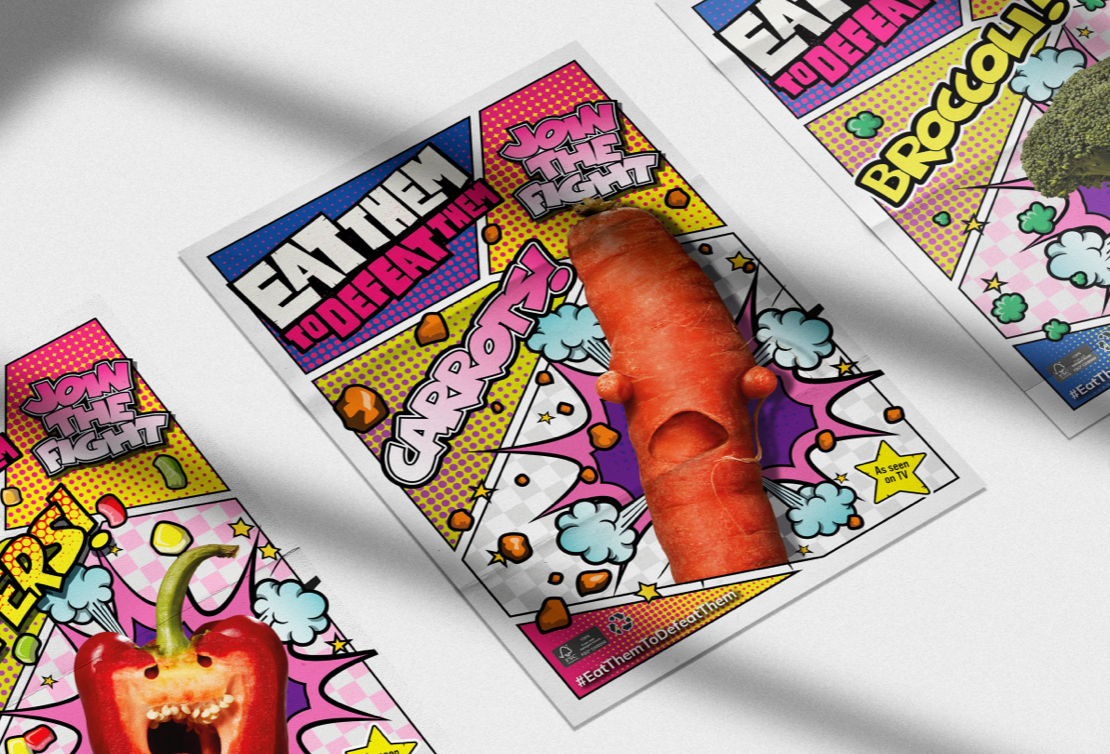 Impact
A-'maize'-ing growth
Following the first successful campaign, the ongoing Eat Them To Defeat Them campaign has taken Veg Power to new heights, thanks to National TV advertising created by Adam&EveDDB. Taking the imagery from the TV ads as a starting point for campaign assets, we have employed a variety of illustrative styles, primarily designed to help busy parents on a low budget to integrate more veg into everyday routines in fun, quick, affordable ways. In addition, supporting content, including the cookbook, school packs, activity packs and social media content, are designed to support teachers and catering teams whilst appealing and engaging parents and kids. Veg Power and ETTDT continues to grow from strength to strength with the latest ambition to get in front of 1,000,000 children in 2022.
Impact
Un-'beet'-able
additional vegetable sales since launch in 2019
million+ children participated in the school programme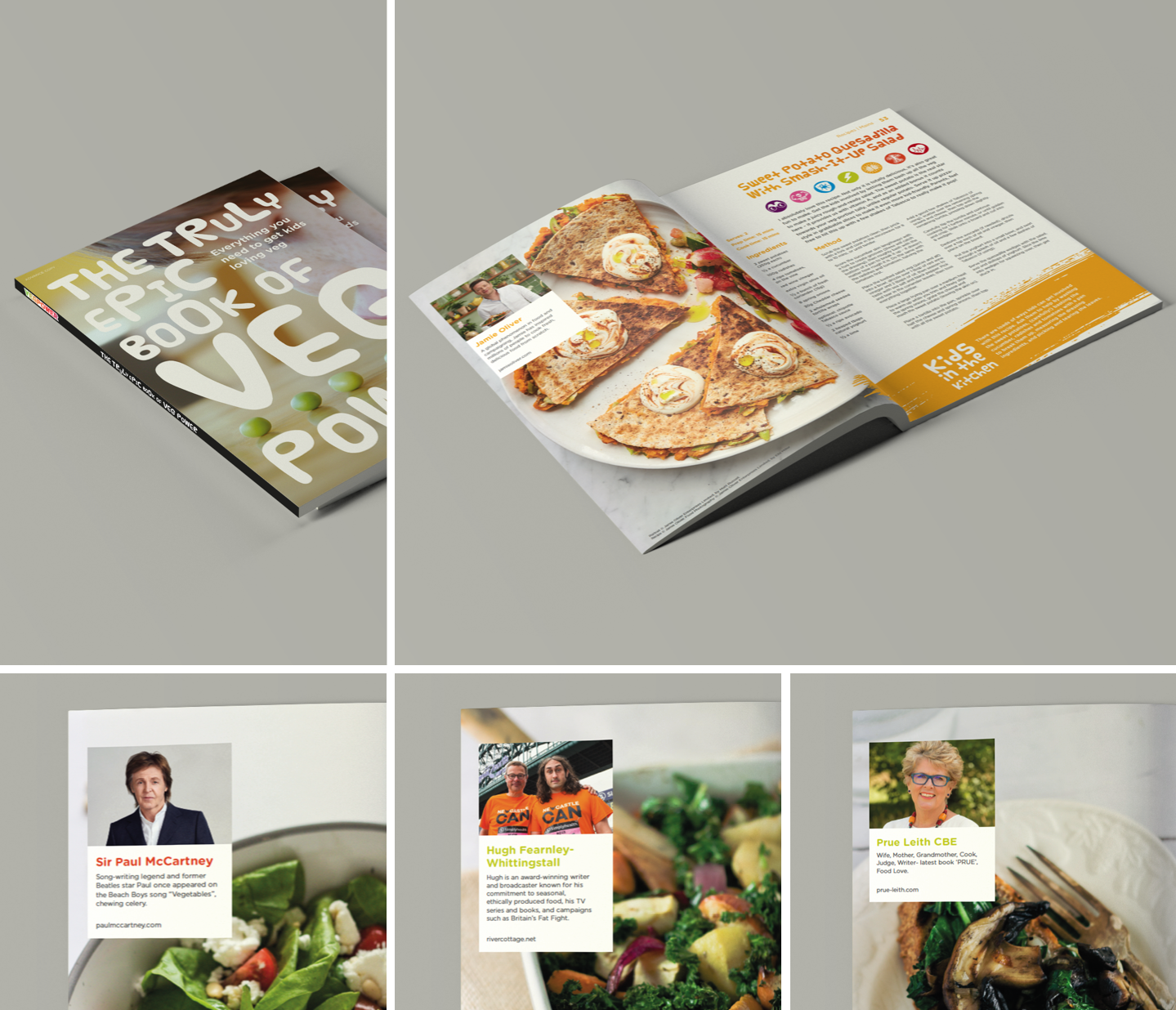 "
One brilliant thing that's come from today is a piece of creative work that might just be the beginnings of a proper advertising campaign for veg. A fight back against that tidal wave of advertising for junk food that's been swamping us for years. We need an antidote to that. This could be it.
Hugh Fearnley-Whittingstall