Mambu
Content for financial trailblazers
Mambu is a cloud-based, SaaS banking platform that allows financial institutions to rapidly configure and integrate innovative lending and deposit services into their suite of customer solutions. With more than 200 banking clients in over 65 countries, Mambu is a market leader. The team wanted to create a thought leadership destination where existing and prospective clients could discover and understand the tectonic shifts happening in the financial sector, using new primary consumer research as the jumping-off point.
Mambu approached ifour to develop a new identity and punchy collateral for its new series of whitepapers, the Disruption Diaries.
KEY SERVICES:
– Branding
– Marketing collateral
– Campaign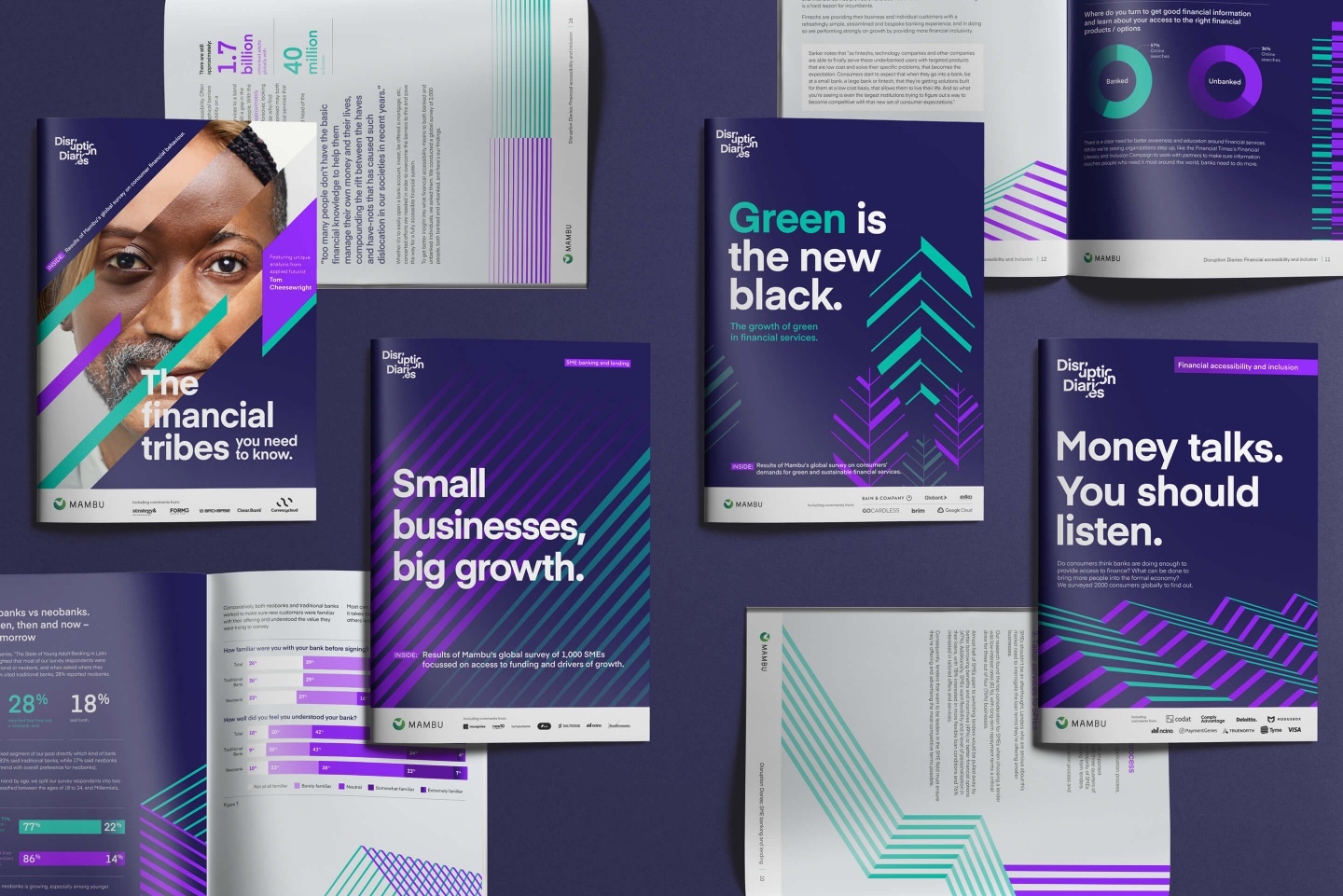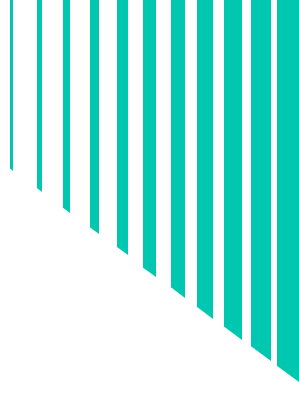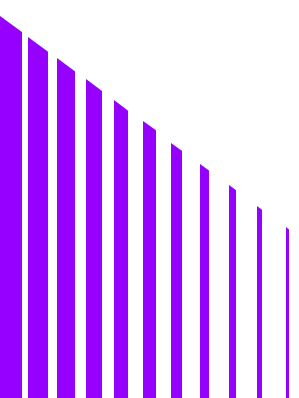 The challenge
Thought leadership, but make it Mambu
In such a crowded, noisy market we needed to create a sub-brand that both stood out as something new and engaging whilst still remaining an unmistakable part of the Mambu brand. Thought leadership reports and papers can be dry and unappealing; the challenge here was to convey the idea to prospective readers – and contacts – that the Disruption Diaries series was fast-moving and essential content with its finger on the pulse of what banks' customers really want.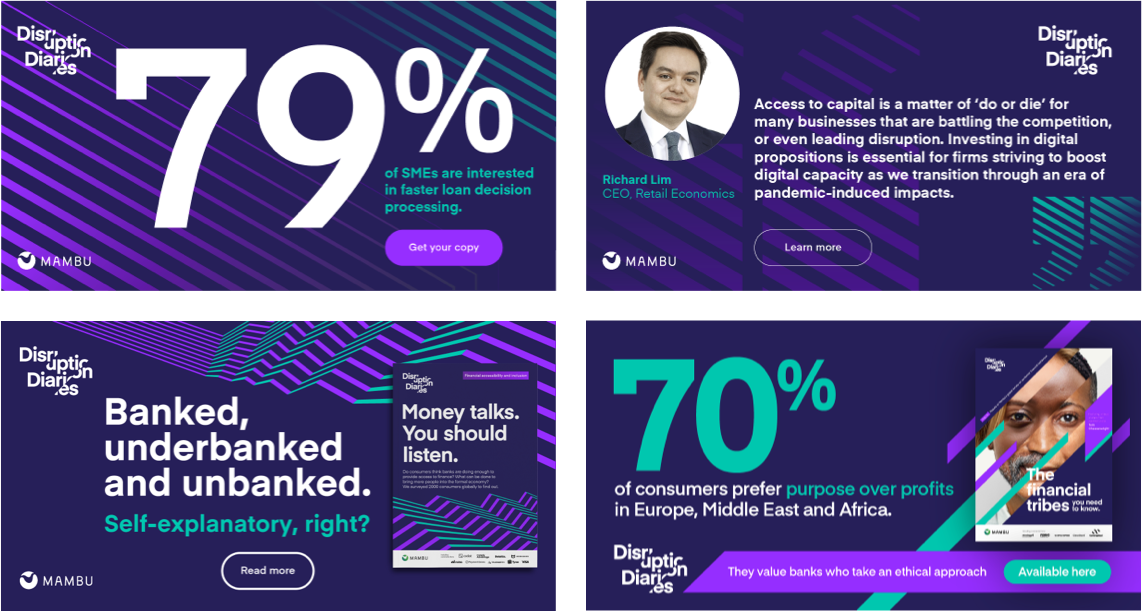 The approach
A sub-brand that's fit to flex
Creating a brand within a brand can be tricky. Too much of its own identity and the sub-brand can start to compete with and detract from the mother brand. This can confuse audiences and rob the primary brand of some of its equity. However, an insufficiently distinctive sub-brand can become meaningless branding clutter.
To avoid both these extremes, we opted for an eye-catching but simple brand identity that stands on its own but fits in and does not 'fight' with the overarching Mambu branding. The Disruption Diaries parallel lines and popping colour offers infinite possibilities while remaining within the strict confines of the straightforward concept.
The solution
Not your average whitepaper series
The resulting sub-brand steers away from the usual FinTech visual tropes, instead taking a conceptual approach that is rooted in the idea of an unrelenting focus on customer needs. That, after all, is where disruptive innovation starts. Using graphic lines, we're able to show the 'business as usual' flow being disturbed and redirected in the same way that smaller innovations in FinTech have first captured progressive, underserved parts of the market, and have then gone mainstream. And so, the ripple becomes the tide.
The Disruption Diaries sub-brand is a flexible wrapper that gives Mambu (and collaborating partners) the freedom to include a wide range of topics under a cohesive proposition. The identity is flexible enough to be reworked over and over again, so each series entry is individual but at once part of a larger offering and always completely Mambu-branded. The Disruption Diaries has become a destination for financial trailblazers seeking new ways of thinking in a rapidly changing industry.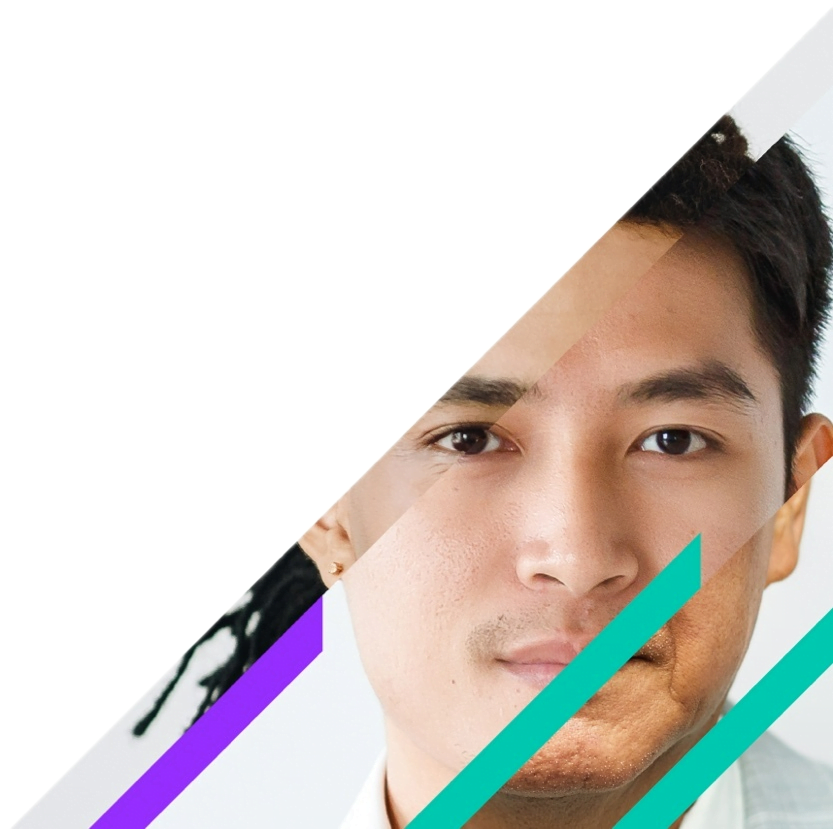 Impact
Across three reports in only 5 months
Downloads (and unique contacts)