Mambu
Evolving a powerful, global disrupter brand
Change, the only constant
In a little over a decade, Mambu has become a truly global business. It is the leading cloud banking platform at a valuation of around €5b, it is one of the highest valued B2B SaaS companies founded in Europe at time of writing. Mambu boasts over 200 banking and financial clients in more than 65 countries and an ecosystem made up of hundreds of technology and business consultant partners.
Central to Mambu's identity is the idea of constant change. The platform is built to be endlessly flexible and constantly evolving. Mambu's communications are about the need for banks and financial institutions to embrace this change and make it a 'superpower'.
KEY SERVICES:
– Branding
– Strategy
– Website Design
– Set Design
– Video Design
With this as a value proposition Mambu's branding must 'walk the talk' and embody permanent innovation.
Mambu commissioned ifour to take its branding through to its next stage of evolution; a subtle and natural but nonetheless engaging next step that would signal change but still remain 100% Mambu branding that has built equity in the cloud banking space over the last decade.
The challenge
Creativity needs freedom. And discipline
Our creative team's biggest challenge was to gauge exactly how much evolution the client wanted. The Mambu logo has helped move mountains in the last ten years and what Mambu's leadership wanted was subtle refinement rather than radical overhaul.
Beyond the logo, other branding elements needed to be introduced that simultaneously allowed the corporate and regional teams (and their local agencies) plenty of scope to 'play' but with strong, defined parameters within which to do it.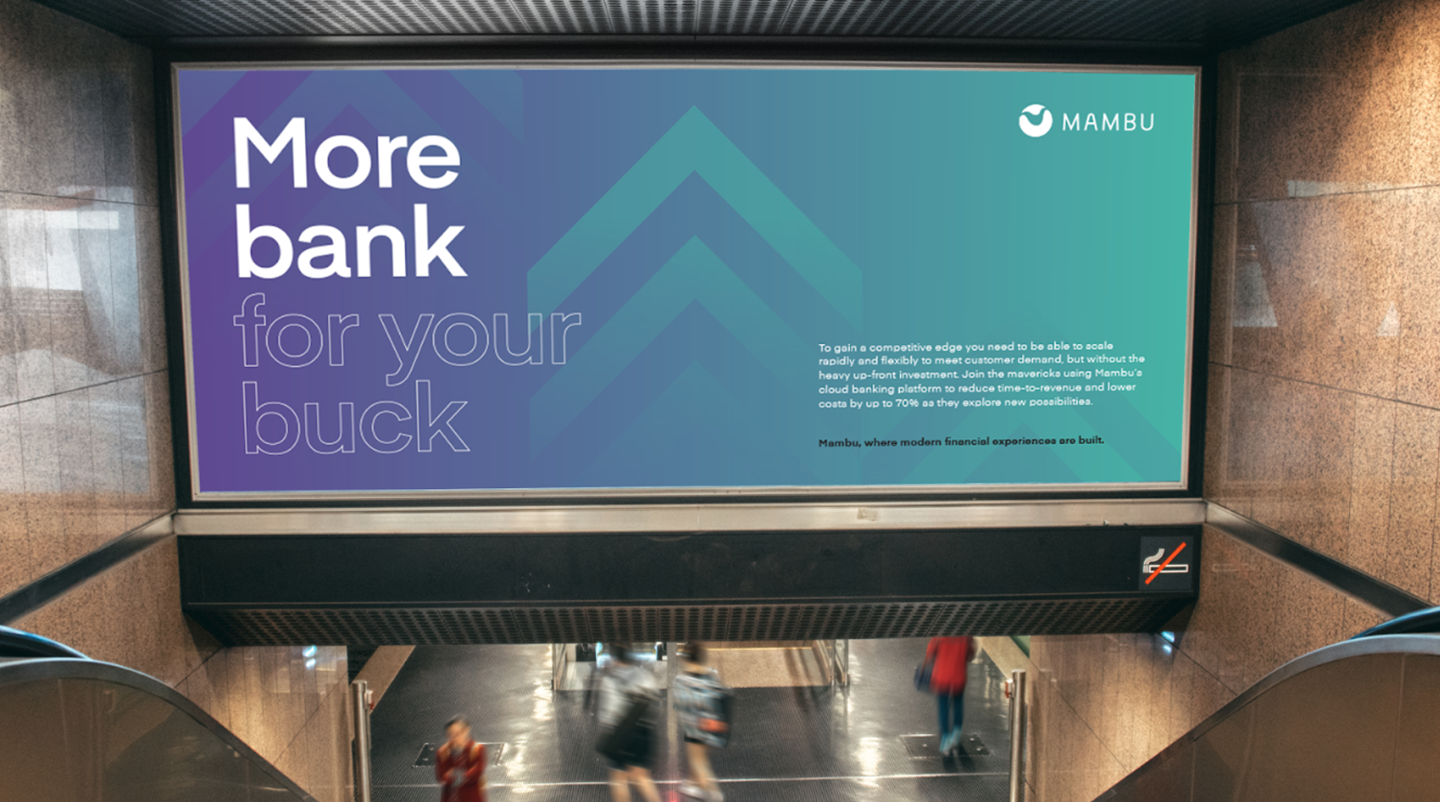 The Approach
Planning a wrap-around experience
Like campaigns, events give brands freedom to move away from business as usual branding and As the commission began, Mambu's updated positioning was finalised and given a name. The articulation of Mambu's proposition as a high-velocity operation model makes clear that Mambu does not simply offer a cloud banking platform and ecosystem but that these come with a mindset and outlook on the future of banking itself. If we needed it, this was the clearest message to our Design team that we were not simply moving Mambu's branding up a notch but helping to invent a design language for the brand that performed in exactly the same way that Mambu's product and services do. We set out to develop a suite of assets that, at a glance, would tell Mambu's 'change and ongoing evolution' story.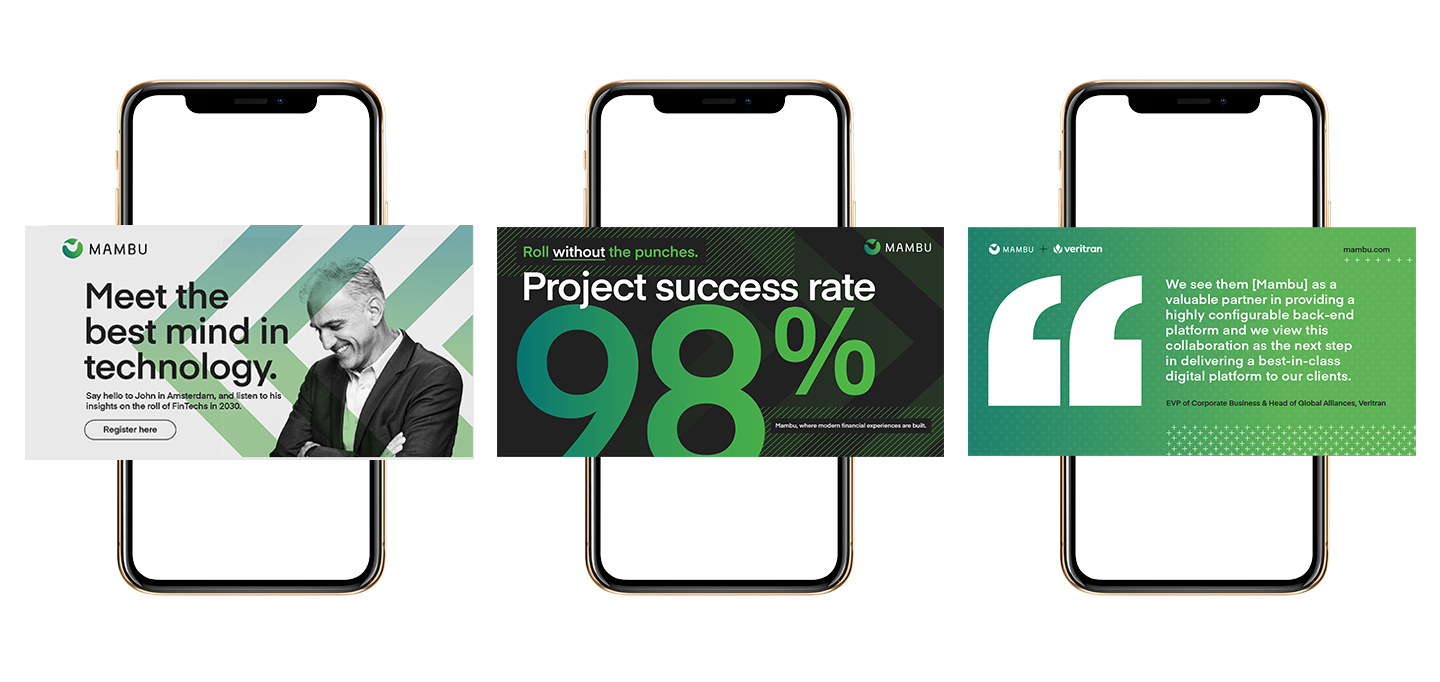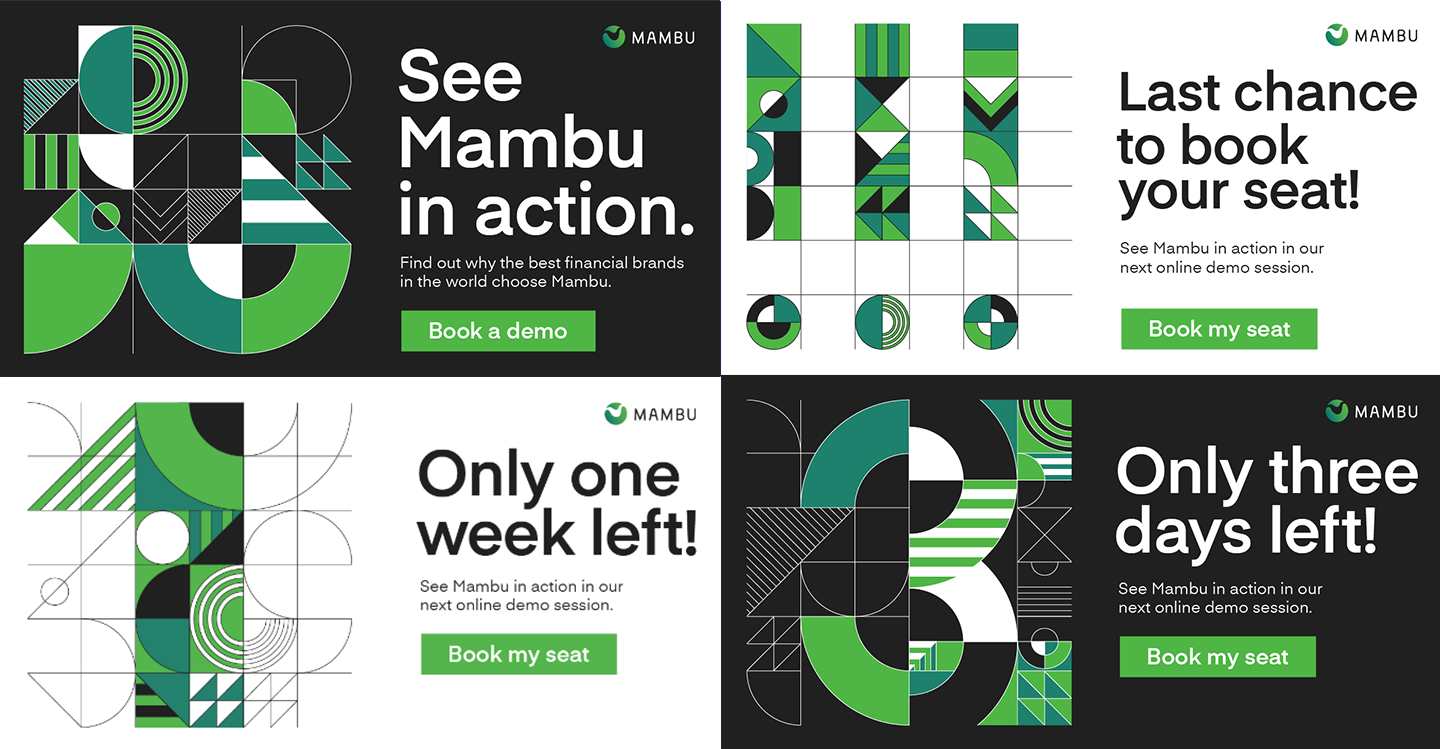 The solution
A brand that evolves
Our solution instantly demonstrates what Mambu is all about – strong, angular lines that are, literally, moving the Mambu branding to its next phase, convey constant, dynamic movement that can change direction instantly, whenever necessary, without losing momentum, purpose or identity.
Even almost a year after its creation, the Mambu chevron remains adaptable; ifour continues to work with Mambu's in-house design team and regional agencies to maintain the integrity of the branding and to continue its evolution. Photography has become increasingly important in the brand's makeup. Used more sparingly in previous iterations of the brand, we have developed a library of photographs of Mambuvians and the 'Mambuverse' and some wittily branded stock photography to ensure that Mambu branding is every bit as innovative, original and agile as the products and it offers.