Float like a butterfly – sting like a heavyweight marketing pro
We often hear of big brands throwing money around like it's confetti. Those of us with our feet in less opulent waters have always had to keep a tighter rein on our marketing spend. However, as the internet has blown the marketing mix into a million tiny pieces, we've all got to be more savvy.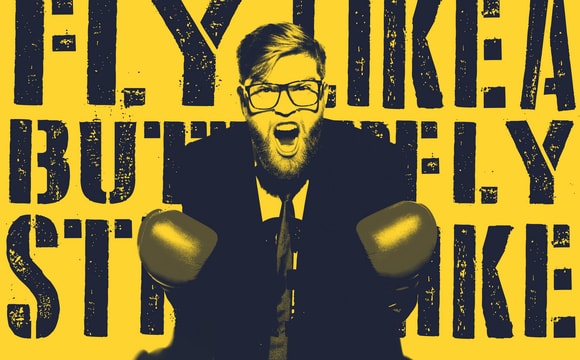 More Bang for Your Buck
You might be surprised to learn that in 2016 the world's biggest advertising spender was Pampers – splashing out an impressive $8.3bn. (Where there's muck there's brass!) Apple's $1.8bn, which didn't even make the top 30, seemed quite modest by comparison. And yet, the tech firm continues to enjoy more than double the brand value of any other company in the world.
So, what's their secret? Whilst money isn't necessarily the answer to all your marketing needs, creativity, we believe, could just be! As the marketing mix has been blown into the stratosphere – so brands need to be a much more creative in the way they connect with their audiences. And creativity, as Steve Jobs once said, is "just connecting things." With more and more "things to connect" these days, marketing teams can't be caught looking the other way.
Agility and Imagination
Like heavyweight champs, we need to be on the front foot, deftly watching the punches thrown by our competitors, whilst trying adapt our stance so we can get the first blow in. Gone are the days when a comprehensive brief with strict deliverables and an inflexible, linear timeline was all it took for success. Take this approach today, and chances are you'll be flat on your back before the first bell has rung.
We're all in it for the long haul – breaking down that traditional chronological scope of work into perfectly bite sized pieces that can be honed for each audience. There's a certain degree of science, when it comes to understanding what your customers want and where the market is heading, but you also need good old hard work; and a nice dollop of imagination. As Muhammed Ali said, "The man who has no imagination, has no wings to fly."
It's not just the little guys who are realising this. Many of the big brands are throwing out the budgets in favour of smaller, more targeted marketing schedules and plans. The likes of Unilever, in fact, are planning to double efficiency by moving to zero-based budgeting, so they can respond more rapidly to what their customers actually want.
Create Clever®
At ifour we believe completely in the power of creativity to transform the fortunes of any venture – but not the kind of surface deep creativity of 'cool' that goes no further than colour and font. It's a creativity that starts with thinking and ends with a product that helps our clients turn heads, change minds and, most importantly, deliver on the bottom line!
Whether it's developing an identity for a new brand, revitalizing a tired online presence, or launching a product into the market, everything can be made better by inventing new ways of looking at and engaging with it. To achieve this, we invest a lot up-front, understanding client organisations, their aspirations and their operating environments.
Blending smart insights with beautiful design and powerful, invisible technology we create communications that get results for our clients. Create Clever® is far more than a cheeky strapline or trademark, it's our mission.
So if you want a sparring partner to sharpen up your creativity, why not call us on 01892 541111, email or pop into our Tunbridge Wells studio, on the Pantiles for some fighting talk!